Dental Associates Of Cape Cod
We are committed to providing excellence in everything we do. Through exceptional care and state-of the-art technology, we continue to create beautiful, healthy smiles for our patients.
Our desire is to provide you with dental care that can enhance the quality of your life, and as such, we are pleased to offer you complete dental care for all ages in one convenient location. Our office is open 5 days a week by appointment, including evenings. We also offer same day emergency care for our existing patients and we are currently accepting new patients!
Our Services
From routine cleanings and fillings to bridges and dental implants, Dental Associates of Cape Cod is equipped to handle all your dental needs. To help you understand your options, we've included descriptions of some of our leading services on this page.
Emergency Care
Simple toothaches can often be relieved by rinsing the mouth to clear it of debris and other matter. Sometimes, a toothache can be caused or aggravated by a piece of debris lodged between the tooth and another tooth.
Learn More
Cosmetic Dentistry
People choose esthetic dental procedures for various reasons, to repair a defect or just to improve their overall appearances. Whatever the reason is our ultimate goal is to help bring you a beautiful smile.
Learn More
Traditional Orthodontics
We offer a full range of orthodontic treatment for both children and adults. We offer options for banding such as Damon, Ceramic brackets etc.
Learn More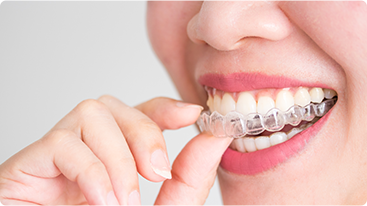 Invisalign
Invisalign's® invisible, removable, and comfortable aligners will give you the beautiful straight teeth you've always wanted.
Learn More
" We are committed to providing EXCELLENCE in everything we do. Through exceptional care and STATE-OF-THE-ART TECHNOLOGY, we continue to create beautiful, HEALTHY SMILES for our patients. "
Why Choose Us
Each and every one of our staff members has true passion and does an exceptional job providing top care for our patients.
Advanced Dentistry

We offer top of the line dental care for people of all ages.

High Quality Equipment

With the help of cutting-edge technology, we provide a seamless experience during every visit.

Caring Staff

All members of our team our team are fully trained and highly skilled in their area of expertise.
See Their Smile
Our patients leave the office smiling brighter than when they walked in. Find out why people prefer Dental Associates of Cape Cod over any other practice.
We are here
Experience exemplary dental care at our convenient location on Barnstable Road in Hyannis.